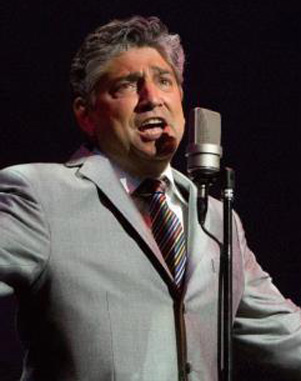 "Creating a Tony Bennett Experience with an awesome trio."
Frankie Roma has performed in Las Vegas, New York, Spain, Germany and Italy, as well as a guest entertainer on cruise ships around the Mediterranean, across the Atlantic and around Japan. Recently, he performed the Dean Martin role in "The Rat Pack" in London's West End.

Frankie has been singing the songs of Tony Bennett for more than twenty years. He is currently in the middle of recording tracks with his own Trio ahead of making preparations to take the band on the road.

Look out for him and his Trio, "The Tony Bennett Experience" in a venue near you sometime later this year...maybe sooner! They'll be performing Tony's biggest hits such as "I Left My Heart In San Francisco", "The Good Life", "I Wanna Be Around", "For Once In My Life", "The Best Is Yet To Come", "Fly Me To The Moon" and dozens more.

Frankie says: Like many people, I have been a huge fan of Tony Bennett's for a long, long time. He has a powerful voice and a wonderful range bringing senses of both danger and vulnerability to his renditions. I've been lucky enough to see him perform at the Royal Albert Hall and urge everyone to go and see this amazing legend live for themselves. Stars like him don't come around very often and I'm not sure how many we'll see like him in the future.

Listen now to Frankie with the band (more on the way)

"Frankie's powerful, rich, yet subtle voice delivers Tony Bennett's material with ease and sophistication."

Need more info quickly? Please click here for the enquiry page!
"From a lifelong American Songbook fan...
Brilliant!...all the technique, the quality, the tone. Fantastic! What a lucky man you are."
Contact us by phone, email or our enquiry page for more information about Frankie's upcoming performances and also for bookings of all types from Cabaret, Theatre or Corporate, plus Private Events such as Parties, Weddings, Launches etc.